Nov 17 Update
Indonesia – Equipment Certification – Proposed Changes

The Indonesian Ministry of Communications and Informatics (KOMINFO) has just released a draft consultation document with proposed changes to the current procedure for equipment certification. In the new draft proposal the following changes are proposed.

Certification to be issued without validity.
Certificate holder must be a local company-office-importer based in Indonesia.
2-tiered approval system
- Certification via DoC (Test Report issued by overseas test laboratory)
- Certification without DoC (Local testing in Indonesia)
DoC certification maybe allowed for certain equipment types such as:
Mobile Phones
Handheld Device
Low Power Radio Device
Tablet P.C
Test reports from overseas laboratory must be less than 3 years old

As soon as the regulator confirms which changes will be implemented and the anticipated timeline for the changes we will advise you in a further update.

South Africa – NRCS Electrical Safety LoA's e-system Procedure

The body responsible for the Electrical Safety of Electronics and Electrical equipment 'NRCS' are now issuing product approvals under their new on-line e-system. The procedure for the certification of electronics and electrical equipment has been recently overhauled with the introduction of the NRCS electronic registration system. The new e-system allows locally registered companies based in South Africa to apply for the equipment LoA's on-line. Previously applications were paperwork and had to be submitted to the NRCS.
Using our local representation in South Africa I.C.M has recently had great success in obtaining LoA approvals within 6-8 weeks for our clients, under the previous procedure timescales were upto 5-6 months. Key things to note are that safety reports must be less than 3 years old. Product photos are required.
For further information on the new changes please contact us.
Trinidad and Tobago – Equipment Certification Exemption

The communications equipment regulator 'Telecommunications Authority of Trinidad and Tobago' (TATT), have informed I.C.M that short range radio devices such as WLAN, BT, RFID, etc.. are no longer required to be approved by their organization. TATT's regulatory focus is now on higher powered radio devices. So, any SRD under 2W's are now exempt from the equipment certification procedures.

Brazil – ANATEL publishes new EMC-Safety Resolution

ANATEL has recently published it's Resolution 686 which will cancel several standards used for local testing in Brazil, within the next 2 months. During this period the regulator will be publishing test requirements for EMC, safety, SAR etc. that will automatically replace the formal resolutions. 
The new tests requirements for (EMC, safety, SAR etc) are expected to be the same as the current resolutions, so incorporating existing test standards into the new requirements.  The reason for the new requirements is that in the future ANATEL will be able to modify these requirements without the need for the long drawn out consultation period which currently exists.

Taiwan –  Updated Technical Regulations for PLMN08 (3G) and PLMN10 (4G)

During late October 17 the Taiwanese Regulator National Communications Commission (NCC) published updated technical regulations PLMN08 for the 3rd Generation Mobile Communication Terminal Equipment (3G) and PLMN10 for Mobile Broadband Business Terminal Equipment (4G). Both updated technical regulations are enforced with immediate effect.
The main changes from the latest versions of PLMN08 and PLMN10 are as follows:
1.            Correction on Legal Unit of Measurement and Multiple Fraction Definition.
2.            Regarding Public Early Warning Broadcasting System, messages with the same "Message Identifier" and "Serial Number" will not reappear on terminal equipment.

Egypt –   4G LTE Now Permitted
The Egyptian regulator, National Telecommunications Regulatory Authority (NTRA), has issued new legislation to confirm that 4G LTE is now permitted for use in Egypt. The 4G LTE bands open in Egypt are B1, B3, B8 and B28. There are no changes to the Type Approval process for cellular devices – Equipment certification for cellular host devices must be obtained via a local testing process. The NTRA also confirmed that there will be no impact to already approved devices.

Paraguay – New Equipment Labelling Requirement

The Paraguay regulator 'CONATEL' has issued the resolution directory No. 1193/2017 amending current  resolutions No. 588/2009 and No. 1631/2014 regarding the product labelling requirements. The new resolution requires the product to be clearly labelled  with the following:
Name of the manufacturer,
Brand and model number,
CONATEL Logo + Certificate/Registration Number
CONATEL will require a photo or draft of this label as part of the application package for new approval applications.
The Resolution allow for placement of all information in the user manual or alternate locations for cases where placing the information on the product label is not possible.

For further information on the new changes please contact us.
Oct 17 Update
Indonesia –  Acceptance of International Test Reports for October

The Indonesian regulator SDPPI publishes announcement 1407/BBPPT.31/SP.04.06/09/2017 dated 26th September 2017. The announcement allows for 1 month the acceptance of test reports from internationally accredited laboratories outside Indonesia. The Indonesia test laboratories are currently swamped with products requiring testing, to alleviate the backlog of product applications the SDPPI will allow for the month of October test reports to be used to bypass testing in Indonesia.
Malaysia –  New LTE Requirements for Malaysia

The Malaysian communications management body 'MCMC' has published a new technical code for LTE user equipment pursuant to section 185 of the Act 588 by the Malaysian Technical Standards Forum Bhd. This new technical code specifies the minimum requirements for LTE devices which may include cellular mobile terminals, handheld, portable and vehicle mounted equipment and RF cards and modems. The bands covered by this code are as follows: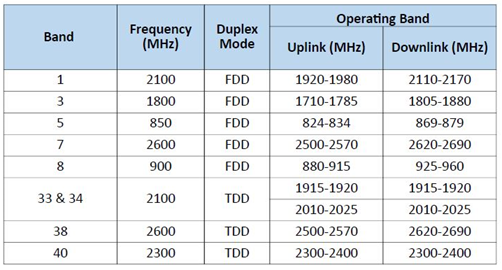 Brazil –  ANATEL Publishes New Requirements for Cell Phone Chargers.

ANATEL has recently published Act No. 493, updating requirements for Cell Phone Chargers.
Act No. 493 introduces new requirements for vehicle and wireless chargers that are intended to be used with Cell Phones, listing them as Category I products (with a 1 year validity).
The new regulation covers four types of chargers:
Mains powered inductive (wireless) chargers;
Mains powered chargers with a DC wired connection to the mobile;
Vehicle based wired chargers (from 12V or 24V DC supply);
Vehicle based inductive (wireless) chargers.
ANATEL approval for vehicle chargers used with Cell Phones becomes mandatory 180 days after the initial publication of Act No. 493, which would be the 6th of January 2018.
Testing will be carried out locally based on the requirements set out in Act No. 493.

Chargers will be required to test with the Cell Phone they are intended to be used with.
For more information on it's implementation please contact us :

UAE –   New RoHS requirements

UAE Cabinet Decision No. 10 of 2017 has been published on the restriction of hazardous substances on electrical and electronic equipment. The new RoHS requirements are applicable for the following product categories:
Large household appliances
Small household appliances
IT and Telecommunication equipment Consumer equipment
Lighting equipment
Electrical and electronic tools (with the exception of large-scale stationary industrial tools)
Toys leisure and sport equipment
Medical devices (with the exception of all implanted and infected products)
Monitoring and control instrument
The published hazardous materials list is as follows:
Lead (Pb)
Mercury (Hg)
Cadmium (Cd)
Hexavalent chromium (Vi)
Polybrominated biphenyls (PBB)
Polybrominated biphenyl ethers (PBDE)
Bis (2-ethyhexyl)
phthalate (DEHP)
Butyl benzyl phthalate (BBP)
Dibutyl phthalate (DBP)

There will be a phased implementation process for RoHS starting 2018.
For more information on it's implementation please contact us :
South Africa – NRCS LoA's – e-system procedure

At I.C.M we have recently successfully completed a series of South African electrical safety Loa approvals for a client covering a wide range of electrical and electronics products. This was completed using I.C.Ms local South Africa office and using the new NRCS on-line electronic registration system.
The new system has streamlined the process for South Africa Loa's, working with our established contacts in the NRCS what would normally take upto 6 months to achieve has now been completed within 8 weeks.

The new system requires the local representative to register themselves in the e-system. Once the local company registration is complete the applications are filled for approval.

For further information on NRCS product approvals please contact us.

Australia – Proposed EMC Labelling Notice Amendment Consultation Closes 

The ACMA is has recently closed the public consultation period on the remaking of EMC Labelling Notice and EMC Standard that support the regulatory arrangements for devices
.
A draft EMC labelling notice has been published, some of proposed changes to the EMC labelling notice are:
Updates on the requirement for suppliers to register on the ACMA database prior to labelling products.
Removal of the section on issuing of the supplier codes
Clarification on the additional requirements for product variants
Updates to the requirement for keeping company records


The new EMC labelling notice will replace the current notice which is due to expire in 1st of April 2018.
For more information on it's implementation please contact us :

Sept 17 Update


Indonesia – New Product Approval Online Application System

The Indonesia communications regulator 'SDPPI' has announced a new procedure for product certification. Starting September 4th the SDPPI has introduced a new on-line product certification application system for all local companies based in Indonesia. Previously applications had to be printed and delivered to the SDPPI. The new process will allow applicants to upload the application documents to the new SDPPI on-line registration system and have the ability to view the progress of their applications in the e-certification system. The new system has a few additional requirements, For example all mobile telecommunication devices, handheld computers and tablet computers shall enclose a copy of an official certificate from the competent authority containing a list of International Mobile Equipment Identity (IMEI) for GSM, and Mobile Equipment Identifier (MEID) for CDMA or the like. The system will allow 3 users per company and you will need to ensure the correct HS code is used in the application. You will also be allowed to apply for certificate renewals on line.

For further information on the new changes please contact us.


Brazil – Radio Standard Update

ANATEL in Brazil has recently published the Act 11.542 on August 28, 2017. This act will complement Res. 680, which is the new RF standard that is in place in this country. The previous RF standard, Res. 506, is no longer valid. From now on all new certifications must be conducted as per Res. 680. One of the key changes to the standard is within Article 9 Broadband Wireless Access System for Local Area Networks operating in the 5150-5350MHz band, the noted change is as follows:

The emissions must be confined to the internal environments of the buildings;

The average value of the isotropically radiated equivalent power is limited to a maximum of 200 mW;

The average value of the isotropically radiated equivalent power spectral density is limited to a maximum of 10 mW / MHz.

Alternatively to the emission limits set forth in art. 8, the Agency shall establish minimum specifications for radiocommunication equipment operating in specific frequency bands, as indicated in Annex I, to be classified as being of restricted radiation.

DR Congo – Copy of the approval must now be shipped with products

The communications regulator in the Democratic Republic of Congo 'ARPCE' has recently announced an update to their procedure for the approval and import of telecommunications and radiocommunications equipment.

Effectively all exports of equipment to DR Congo must now ensure a copy of their product approval is shipped with the equipment to ensure a smooth transition through their customs borders.

We have recently been notified that the customs teams in the DR Congo are requesting to see such certificate before equipment can pass through their border.

Product certification is achieved by the use of existing international test reports such as FCC and ETSI. For further information on the new changes please contact us.

NZ – New provisions for tank level probing radars used in shielded enclosures

The New Zealand communications regulator 'RSM' has issued an update to the Radiocommunications Regulations (General User Radio Licence for Short Range Devices). The notice was updated to include new provisions covering the frequency ranges 5250 – 7000 MHz, 8500 – 10000 MHz, 24050 – 26500 MHz and 75000 – 85000 MHz for radiodetermination transmitters operated within shielded enclosures.

This use is limited to tank level probing radars, in compliance with ETSI EN 302 372-1, where the installation must be inside the shielded enclosure and the signal leakage as measured at 3 metres outside this enclosure must not exceed the maximum power as prescribed in the new provisions.

NZ - Review of the 3.5 GHz band for future 5G services.

The current radio allocation in the 3.5 GHz band will expire in October 2022. This band is anticipated to be one of the main bands for early deployment of 5G services.

Currently there is limited use of the band. The radio spectrum management agency has attempted to work with existing rights holders to reconfigure the band to make it more useable. Unfortunately, a consensus on re-planning the band could not be reached.

Consultation with industry on future uses for the 3.5 GHz band, its configuration and allocation will start in October 2017.

Ghana – Consultation on the assignment of the 900MHz radio band for UMTS

The spectrum management agency of the National Communications Authority (NCA) in Ghana is going through a consultation process on the assignment of the 900MHz radio band over to UMTS technology,

Currently UMTS is only deployed in the 2100MHz band in Ghana. The Ghana spectrum management agency wants increase the UMTS coverage so by offering 3G in the 900MHz band it can typically double or triple the coverage area of the service. It is also a cost effective way of providing 3G services to rural areas. The Authorization to provide 3G services in the 900MHz band will be granted for specific areas upon application by a telco.


Gabon – Consultation on the 2.6GHz – 3.5GHz Radio Bands

ARCEP the Gabon communications regulator is looking at the process of re-assigning the 2.6 GHz TDD (2570 - 2620 MHz) and the 3.5 GHz (3400 - 3800 MHz) bands this year, to satisfy the needs that were expressed regarding fixed superfast internet access and professional mobile radio services. Arcep also wants to begin immediately to prepare for the launch of 5G mobile networks in the 3.4 - 3.8 GHz band.

The consultation also provided an opportunity to gather information on the targeted use of other frequency bands: the 1.4 GHz band, the 2.3 GHz band, the SDL portion of the 700 MHz band, the 400 MHz band and the 26 GHz band

Aug 17 Update


Kenya – SRD's Now Exempt From Certification

In late July the Kenyan regulator Communications Authority 'C.A' formally published a list of Short Range Radio equipment now exempt from type approval. To meet the exemption requirements you will need to adhere to the following rules:

• The frequencies, transmitting power and external high-gain antenna of these radio apparatus must not be altered.

• The radio apparatus must be operated within and must not exceed the technical parameters set out in Kenyan frequency plans.

• The antenna of the radio apparatus must not be higher above average ground level than the lowest point of the place where the radio apparatus operates effectively.

• The radio apparatus must not cause interference to any authorized network issued with a radio frequency spectrum license by the Authority.

• The user of the radio apparatus in the license-exempt frequency spectrum operates on noninterference and no protection basis from interference.

• If an SRD does cause interference to authorized radio-communication services, even if the device complies with all the technical standards and equipment authorization requirements, then its operator will be required to cease its operation, at least until the interference problem is solved.

For a list of all the equipment and frequencies covered by this exemption please drop us an e-mail.


Taiwan – NCC Updates Product Labelling Requirements

The Taiwanese regulator National Communications Commission 'NCC' have amended their labeling notice for all products.
The amended labelling requirements come into force on the 6th of September 2017.
The key changes are as follows:

1. In addition to placing the NCC label on the product, it is now a requirement to have the NCC logo on the product packaging. This will be required for all new import shipments of already Approved products after 6th September 2017, as well as all products approved after this date. There are no restrictions on the size, and where to place it on the package. Applying the label to your packaging as a sticker is also acceptable.

2. E-labeling is now accepted and can replace the physical NCC label on product, you will still need to affix the NCC logo to the product packaging.
In  addition to the new labelling requirement the NCC also published an updated list of NCC certification agencies and accredited test laboratories. The NCC has also published an updated list of the fees for product certification. For more information on the accredited bodies or the fee schedule please drop us an e-mail.


Argentina – Updated Low Power Devices Standard

The Argentina regulator 'ENACOM' has published an updated standard for Low Power Devices, The new updates to the standards are as follows;
Maximum output power of 401-406 MHz band: 18.260 μV/m @ 3m


Maximum output power of 433.075-434.775 MHz band: 366000 μV/m @ 3m


Addition of UWB bands (3100-10600 MHz)


Correction of limits of 22GHz bands: 22000-26650 MHz

Qatar – Draft Type Approval Regulations

The Qatar regulator Communications Regulatory Authority  'CRA' has announced a public consultation is underway concerning a modification to their product certification laws.  The CRA published on the 16th of July, 2017 an amendment to the current Class License for Short Range Devices to include additional applications of radio-communication equipment as well as additional frequency ranges for some SRD applications. Moreover, a separate section for Wireless Access Systems including Radio Local Area Networks (WAS/RLANs) Applications has been included. Some of the changes include;
There is a proposal to limit the current 5GHz restrictions in bands 1-3. The proposal introduces a distinct section for Wireless Access Systems including Radio Local Area Networks (WAS/RLANs) applications, detailing the authorised frequency ranges with the maximum permitted output power.


New radio communications equipment applications permitted in certain frequencies (e.g. M2M and UWB
Chile – Proposal to Accept Modular Approval

The Chile regulator SUBTEL currently does not issue approvals for modular devices, they will only certify host devices. ICM have been notified that there is a proposal to amend the current homologation regulation 'Resolution 755' which will permit the granting of modular approval, however it could take several months before the proposed changes are implemented.

July 17 Update


Malaysia – New Technical Requirements – Mobile Devices

The Malaysian Communications and Multimedia Commission has issued 2 technical updates to the requirements for Mobile Cellular Systems. The 2 technical updates are as follows:

The technical document MCMC SRSP 504 covers the utilization of the frequency bands between 824 MHz to 834 MHz paired with 869 MHz to 879 MHz and 880 MHz to 915 MHz paired with 925 MHz to 960 MHz ('said bands') for mobile cellular systems and International Mobile Telecommunications ('IMT')systems in Malaysia.

This technical document denies the frequency band 824 MHz to 834 MHz paired with 869 MHz to 879 MHz and 880 MHz to 915 MHz paired with 925 MHz to 960 MHz for mobile cellular systems and IMT systems in Malaysia.

The technical document MCMC SRSP 508 covers the utilization of the frequency band between 1710 MHz to 1785 MHz paired with 1805 MHz to 1880 MHz ('said band') for mobile cellular systems and International Mobile Telecommunications ('IMT') systems in Malaysia

This technical document defines the frequency band from 1710 MHz to 1785 MHz paired with 1805 MHz to 1880 MHz for mobile cellular systems and IMT systems in Malaysia.

Australia – ACMA Priority Compliance Areas for 2017

The ACMA in Australia has announced it's priority compliance areas for 2017. The ACMA will focus on radio interference cases and also Mobile Handset compliance including WiFi handsets. It may be worthwhile just checking your Australian compliance folders just to double check your ACMA compliance.

Pakistan – PTA New Draft Type Approval Regulations

The Pakistan regulator 'PTA' have released their draft - Type Approval Regulations 2017. The draft regulations include the following proposals.

The clarification for SIM based devices, the type approval holder or its authorized distributor shall use a unique IMEI issued by GSM Association. For each new consignment imported in Pakistan, type approval holder/authorized distributor will apply to the PTA by submitting IMEI contained within imported consignment along with supporting documents

The Authority shall maintain a register of all terminal equipment approved under these Regulations and shall keep it open to public inspection.
There is also clarification on the product labelling requirements which are:

In order to verify that the terminal equipment being sold commercially is a type approved model, the type approval holder will place a verifiable sign with following details at a minimum on each type approved terminal equipment as follows: (a) Regulatory label ;and (b) Unique TA number.
South Africa – ICASA MoU with Mozambique

ICASA has announce it has signed a technical agreement with the communications regulator of Mozambique

The announcement declares that the two regulators shall work together to ensure, among others, co-operation on the co-ordination, control and management of radio transmission spill-overs, exchange of information and expertise in the field of radio communications.
From our own experience we do know that the Mozambique regulator accepts ICASA type approval certificates for their own compliance. We will update you if there is any further development on this issue.

Ecuador – Acrotel New Type Approval Regulations

The regulator in Ecuador 'ARCOTEL' has published a new regulation for the certification of telecom equipment on June 15th. There are some changes under the new regulations, they are;

Test samples are no longer required to support the application for approval. Test reports will be accepted.

Applications for certification can now be completed on line by registered members based in Ecuador only.

The 50mW limit for voluntary radio certification is now removed, all equipment regardless of power will require certification.

Lesotho – LCA Type Approval Fees Changes

The regulator in Lesotho the Lesotho Communications Authority 'LCA'  has announced a new public consultation document covering the proposed fees for product certification. The Authority has developed a draft Lesotho Communications Authority (Licensing Classification and Fees) Rules 2018 that is aimed at aligning the regulatory framework with the evolving technology and national developmental imperatives. The draft Rules shall repeal the Lesotho Communications Authority (Licensing Classification Fees) Rules, 2013. The draft Rules shall prescribe the licence classifications and applicable regulatory fees. ICM shall update you once the new draft rules are agreed upon and implemented.
June 17 Update

Papa New Guinea – New Published Standards

The Papa New Guinea regulator 'NICTA' has recently published a series of national technical standards and specifications for I.T and communications equipment. This has seen the publication of RF-Safety and EMC national standards. The standards are based on International standards so compliant FCC-ETSI reports will be accepted.

There is also a published WLAN standard which clarifies the allowed WLAN frequency bands and accepted standards for Papa New Guinea, please see the below WLAN allocation.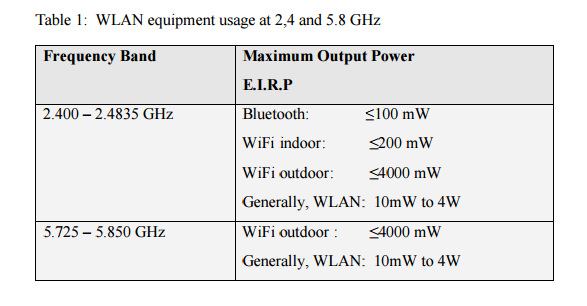 Compliance is achieved by the submittal of your existing FCC-ETSI reports.

Israel – Proposed Exemption for Bluetooth and GPS radio products

Back in late 2015 the Israeli regulator the 'Ministry of Communications' published a proposed notice on the exemption to approval covering Bluetooth and GPS radio devices only.

ICM has just received notification that this proposal has now been put forward for ratification, customs officials have also been notified. Once this proposal is ratified all Bluetooth and GPS radio equipment will be exempt from approval. Working closely with the MoC ICM will monitor developments and as soon as the regulations are passed into national law we will update you with the official confirmation.

Hong Kong – New Proposed Radio Standard 920-925MHz

The Hong Kong regulator 'OFCA' has just published a new proposed standard for SRD in the 920-925MHz band. Currently the 920-925MHz band is dedicated for RFID equipment, the new standard will see the band opened up for non exclusive low power radio devices. The proposed standard is HKCA 1078 and compliance to the standard can be achieved with the use of existing FCC test reports. At the moment there is no set publication date, ICM will keep monitoring the situation and once it becomes implemented we will update you.

Compliance with EN301 893 – 5GHz products

Back in April 2017 the Radio Equipment Directive Compliance Assessment, published Technical Guidance Note 27 regarding compliance assessment for 5 GHz products applying EN 301 893.

Key areas to note are as follows:
The current (R&TTE-D) version of EN 301 893 v1.8.1 contains the Adaptivity Requirement
The new Adaptivity Requirement as developed for the RED version of EN 301 893 (v2.1.0) is not aimed to address RED receiver requirements but future coexistence scenarios
The RED version of EN 301 893 (v2.1.0) contains new Receiver Requirements specific to the RED
These same receiver requirements included in EN 301 893 v2.1.0 are contained in ETSI (Technical Specification) TS 103 521
Up until June 2018 manufacturers can use an alternative method to assess their 5G RLAN product to compliance with RED article 3.2, which is either EN 301 893 v1.8.1 + clause 4.2.8 (Receiver Blocking) from EN 301 893 v2.1.0 (version 2.1.1 when published) or EN 301 893 v1.8.1 + TS 103 521 v 1.1.1 (publication expected May 2017).

Thailand – New Published Radio Standards

The Thailand regulator NBTC – has published new standards covering GSM/WCDMA equipment.

The new published standards are:

NTC TS 1004-2560 GSM Cellular Mobile

NTC TS 1015-2560 WCDMA Cellular Mobile

NTC TS 1027-2560 E-UTRA Cellular Mobile

All GSM/WCDMA equipment now requires compliance to the new standards.
India
The Indian radiocommunications regulator 'WPC' are working their way through an excessive amount of applications for product certification at present. Therefore all applicants are experiencing slightly longer leadtimes for certification. ICM works closely with the WPC, the delays are only expected to be short term.

Sri Lanka
The Sri Lanka regulator Telecommunications Regulatory Commission 'TRC' has just published a notice which now confirms that DECT6.0 Phones are banned for use in Sri Lanka. They will no longer issue approval for DECT 6.0 phones.
May 17 Update

Botswana

The Botswana regulator 'BOCRA; has just released updated type approval guidelines 

The new guidelines see that the one year certificate validity period has been removed, instead all new type approval certificates are issued indefinite. Also, BOCRA has updated their labelling guidelines to allow the use of E-labelling for equipment which have integrated displays. Below are the new labelling requirements.


Indonesia

The Indonesian regulator 'SDPPI' has recently implemented changes to the procedure for product compliance testing. The new rules means that if your product sample fails testing, you will only have 1 attempt to rectify the non-compliance. You will also have 30 days in which to provide a sample which will pass the testing process. Otherwise testing will be cancelled and costs are incurred. Also, equipment with an AC port will now be subjected to conducted testing. Alternatively, you can pay a premium to have your existing FCC-EU reports accepted thus avoiding the testing process.

The Indonesian regulator 'SDPPI' has also issued a draft public consultation document which looks into the technical arrangements for the use of the 2.1GHz and 2.3GHz mobile cellular network in Indonesia. Key technical points for review are :


The 2.1 GHz radio frequency band consists of 2 (two) blocks, each with a radio frequency band of 5 MHz FDD mode in the range 1970-1975 MHz paired with 2160-2165 MHz and 1975-1980 MHz range in pairs with 2165-2170 MHz.
The 2.3 GHz radio frequency band consists of 1 (one) block with a radio frequency bandwidth of 15 MHz TDD mode in the range 2300-2315 MHz.
The user can only select the 2.1 GHz radio frequency band or the 2.3 GHz radio frequency band.
 
The public consultation period is expected to last 6 months.
Macao

The Macao Post and Telecommunications Bureau  (CTT) regulator has recently confirmed to ICM that certain types of short range radio communications do not require any formal approval. According to the "Decreto-Lei n.º 18/83/M", remote control and telemetry equipment are exempted from type approval and radio license in Macao as long as they operate within the authorized frequency bands and maximum Equivalent Isotropic Radiated Power (EIRP) and fulfill the related requirements.

Armenia

The Armenian regulator 'The Agency for Electronic Communications and Postal Services' has recently published a decision which see the use of the 3.5Gz band for the purposes of fixed wireless access (WiMAX) now become available in Armenia. Compliance is achieved by utilizing existing FCC-ETSI test reports.

Bangladesh

The Bangladesh regulator 'BTRC' has recently informed ICM that certain types of radio equipment are not subject to type approval. IT products with low power radio interfaces. Plus a number of other short range radio device do not need formal approval. Instead the regulator requires the actual importer of the equipment to obtain a No Objection Certificate at the point the goods enter Bangladesh.

April 17 Update

New Zealand – New requirements for General User Radio Licence for Cordless Telephones
On the 1st of March 2017 The New Zealand regulator 'RSM' published an update regulation covering the General User Radio Licence for Cordless Telephones 2017. 
The new regulations sets out the requirements, conditions and restrictions on the use of CT1,CT2, DECT and PHS cordless telephones for NZ. Effectively it sets out an end date in the PHS band (1895-1920).
The new conditions for these types of cordless phone can be founds below: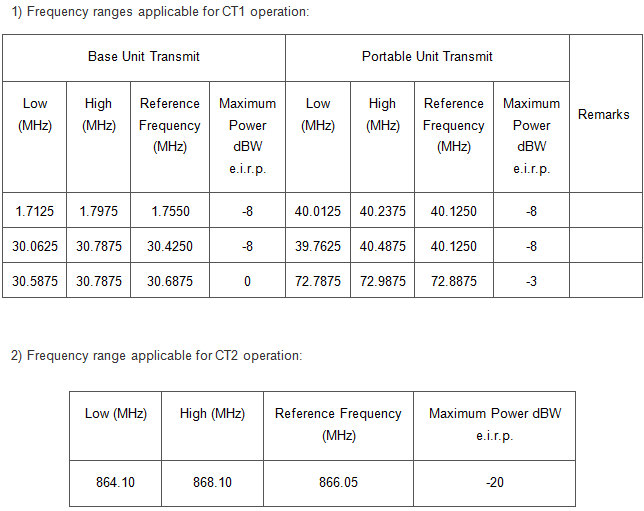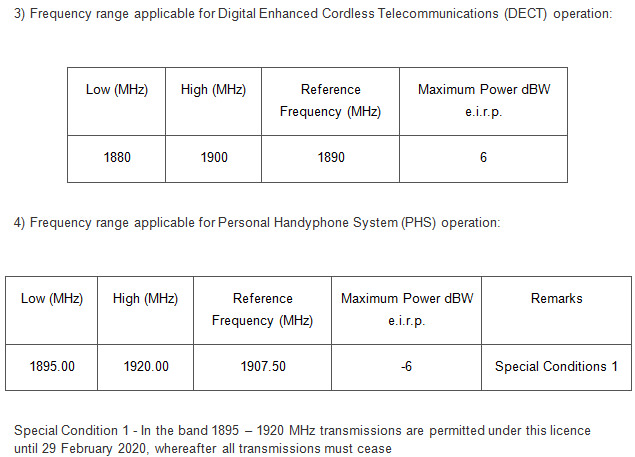 Moldova – New option for product compliance.
The Moldovan regulator Centrul National pentru Frecvente Radio 'CNFR' has traditionally always required in country product testing and certification. From Oct 17 under a new published regulation a separate certification scheme will run in parallel to the current system, this will allow CE marked equipment into Moldova without the need for national testing and certification, providing certain conditions are met.
Under the new law #7, from October 2017 it will be possible for manufactures of radio and telecommunications equipment, using importers from EU countries to use their CE conformity mark and not have to undergo national product certification in Moldova. However manufacturers choosing this route must ensure they have the following in place prior to Importing your equipment from another European EU member.
-       Manufacturers are required to obtain a conformity certificate or test reports issued by an accredited Notified Body that has an EA Multilateral Agreement.
-       Certificates or test reports should be translated into Moldovan language and signed by the importer.
Alternatively, you can apply for national product certification under the traditional system which involves testing in a Moldovan nationally accredited laboratory and certification issued by the regulator.
Trinidad and Tobago – Modular approval no longer available.
The Telecommunications Authority of Trinidad and Tobago (TATT) is no longer processing applications for RF modules that form part of a wireless system. TATT will only process applications for the actual host equipment.
Indonesia– Regulator seeks test reports from labs accredited to ISO17025.
The regulator Direktorat Jenderal Sumber Daya dan Perangkat Pos dan Informatika Republik Indonesia, 'SDPPI' is now requesting submitted test reports for product certification to be issued by test laboratories which are ILAC – International Laboratory Accreditation Cooperation ISO17025 accredited. They are also ensuing their own nationally accredited laboratory follow the standards set out in ISO17025.
March 2017
Malaysia – Sirim Clarifies Tradename/Brand Name Declaration Process.

The Malaysian communications regulator 'Sirim' has issued an update clarifying the requirements on the trademark / brand name declaration which is required to support your product application for certification. The update confirms the available options / requirements according to your trademark/brand name status.

The 3 options available are as follows:.

Option 1 – Tradename / Brand name owned by the applicant.

A declaration is required to confirm the applicant is the tradename/brand name owner. To support the declaration you will now have to provide evidence in the form of a registration certificate issued by Intellectual Property Corporation of Malaysia (MyIPO) or equivalent foreign agency.
Option 2 – Tradename / Brand name where the applicant is in the process of obtaining the legal ownership of the tradename / brand name.

A declaration is required to confirm the applicant has applied for the registration certificate issued by the Intellectual Property Corporation of Malaysia (MyIPO) or equivalent foreign agency.
To support your declaration you will now have to provide evidence that your application has been received by Intellectual Property Corporation of Malaysia (MyIPO) or equivalent foreign agency.
Option 3 – Tradename / Brand name owned by another company. 

If the product tradename / brand name is owned by another company you will need to provide evidence of your partners registration certificate issued by the Intellectual Property Corporation of Malaysia (MyIPO) or equivalent foreign agency.
In addition to the registration certificate you will need to also provide a letter from the tradename/brand name owner giving you permission to use their tradename / brand name.
Vietnam – Regulatory Changes

The Vietnam's Ministry of Information and Communications (MIC) issued the Circular 46/2016/TT-BTTTT in February 2017. The circular includes a number of changes to the requirements for certain radio devices in Vietnam, below are the listed changes.
Output power limit for WLAN products operating in 2400 – 2483.5 MHz is increased from 100 mW to 200 mW.
For UHF RFID, the band 920-925 MHz is changed to 918-923 MHz
924-925 MHz is no longer available for Cordless Telephones.
A new band of 4200-4800 MHz is allocated to ultra-wide band devices.
New bands are allocated to frequency alerting and detecting devices.
Wireless charging technology is permitted on the following frequency bands: 9 - 148.5 kHz, 326.5 kHz, 340 kHz, 6.765 - 6.795 MHz.
New bands are allocated to wireless audio devices for hearing assistance.
All RFID products currently approved for and using the band 920-925 MHz are still allowed to be imported, distributed and used in Vietnam until the expiration dates of their respective Type Approval certificates.  
Australia – Consultation on reconfiguring the 890-915MHz / 935-960MHz  band closing.
The Australian communications regulator 'ACMA' has been running a consultation program looking into reforming the 890–915/935–960 MHz frequency bands. Traditionally 2G technologies have been one of the main technologies used in these bands, but with the deployment of 3G / 4G LTE services a full review of these bands is necessary to decide the future of these bands. This consultation period comes to a close on March 7th, A final ACMA decision on a preferred reform method is expected in the coming months and will take account of responses received in this consultation period. ICM will keep you updated on these changes.

Angola – INACOM Product Certification

INACOM in Angola has re-started processing product applications for approval. ICM have successfully obtained product certificates for a whole range of IT equipment, from tablet p.c's to WiFi routers, RFID readers to Bluetooth peripheral equipment and WiFi printers. FCC and EU reports were accepted as the basis of the applications. Applications were completed within 3-4 weeks, certificates have a 1 year expiry and can be renewed for a small fee.

EU RED – More Radio Standard Published

The following RED standards are now published in the OJ in February

EN301 166 V2.1.1

EN301 908-11 V11.1,2

EN301 908-15 V11.1.2

EN300 422-1 V.2.1.2
Canada – Changes to the Radio Standards Specification RSS-247
Industry Canada has published a new update to their Radio standard RSS-247. The changes affect equipment operating in the 2.4GHz and 5GHz radio bands. A full list of the changes can be found below:
A new section 3.3: states the requirement for emissions that fall within restricted frequency bands to comply with the provisions in RSS-Gen, General Requirements for Compliance of Radio Apparatus;
Section 5.4(b): reinstated the former e.i.r.p. limit for frequency hopping systems operating in the band 2400-2483.5 MHz, which employ a hopset with less than 75 channels;
Section 6.2: add a clarification to ensure that emissions that fall within restricted frequency bands shall comply with the provisions in RSS-Gen;
Section 6.2: state the measurement method for power and unwanted emission limits for licence-exempt local area network devices and digital transmission systems operating in the 5 GHz band;
Section 6.2.1 and 6.2.2: add a provision to allow original equipment manufacturer (OEM) devices installed in road vehicles to operate in the band 5150-5250 MHz with an e.i.r.p. limit of 30 mW or 1.76 + 10 log10B, dBm, whichever is less stringent;
Section 6.2.1.2: clarify the requirement for devices operating in the band 5150-5250 MHz, which have bandwidth that falls into the band 5250-5350 MHz;
Section 6.2.2.2 (b): permit the requisite "for indoor use only" notice for equipment operating in the band 5250-5350 MHz to be included in the user manual;
Section 6.2.2.3: apply the requirement of e.i.r.p. at different elevations for equipment operating in the band 5250-5350 MHz to outdoor fixed devices only;
Section 6.2.2.3: limit e.i.r.p. of OEM devices installed in road vehicles to 30 mW or 1.76 + 10 log10B, dBm, whichever is less stringent;
Section 6.2.2.3: allow equipment, other than outdoor fixed devices, operating in the band 5250-5350 MHz having e.i.r.p. greater than 200 mW to either comply with the e.i.r.p. elevation mask or to include a firmware feature to reduce their e.i.r.p. permanently should it be requested by the Department;
Section 6.2.3.2: allow equipment operating in the band 5650-5725 MHz with bandwidth overlapping the band 5725-5850 MHz to meet the emission limit of −27 dBm/MHz e.i.r.p. at 5850 MHz;
Section 6.2.4.2: modify the unwanted emission limits for LE-LAN devices and DTSs operating in the band 5725-5850 MHz;
Section 6.2.4.2: add a transition date for certification of LE-LAN devices and DTSs operating in the band 5725-5850 MHz to have unwanted emissions comply with either provisions in section 5.5 or section 6.2.4.2;
Section 6.2.4(b): add a transition date for manufacture, importation, distribute, lease, offer for sales, or sales of LE-LAN devices and DTSs operating in the band 5725-5850 MHz which do not comply with provisions in section 6.2.4(b); and
Annex A: delete the word "pre-installation" to clarify that the verification of e.i.r.p. compliance at different elevations for devices operating in the band 5250-5350 MHz needs to be done at the time of certification (before installation); the verification of compliance must be submitted with the test report for equipment requiring certification.
January 2017
ANATEL – Delays with integrating new electronic homologation system.

ANATEL has developed a new on-line e-system to meet the ever increasing demand for homologation in Brazil. This new system will be called SCH – Certification and Homologation System, the format will be similar to the current platform with some changes to the way applications are handled, viewed and accessed.

ANATEL is in the process of migrating databases over to the new one. In order to carry out this work, it has been necessary to block new requests for homologation or registration of certificates of technical compliance.

ANATEL has decided to perform the migration work during their quietest period of the year for homologations, in January. Therefore for the next few weeks new applications will not be allowed to be submitted until the migration work is completed. We will keep you informed on when the new system is operational and applications can proceed under the new system.  


China – Some Low Power Devices no longer require approval

In Dec 16 the state Radio regulator SRRC published new rules, under Chapter V - Radio Transmitter Devices Administration, Clause 44 states that 'Except for Low Power Short Range Radio transmitting devices, all other radio transmitter devices shall apply for China SRRC approval before the devices can be imported and sold in China'

Low Power Short Range devices are defined in Notice No. 423 [2005] from the Ministry of Industry & Information Technology (MIIT). Such devices in China are mostly below 1GHz, except for 2.4GHz cordless phones and vehicle ranging radars in the 76-77GHz range. However, WiFi and Bluetooth devices do not fall into this category and thus still require China SRRC approval.

The following frequency bands can be used without certification, since SRD/LPD is exempted from type approval in 2017.

LPD 868MHz: 868-868.6MHz. Power limit is 5mW (e.r.p).

LPD 470-566MHz/ 614-787MHz is subject to remote control equipment (except for toy controller). Power limit is 5mW (e.r.p).

LPD 779-787MHz is subject to wireless control equipment (except for toy controller). Power limit is 10mW (e.r.p).
Indonesia

There is a new policy under review at the state regulator SDPPI whereby they will look to introduce a two tier approval system. This will see the introduction on the acceptance of international test reports and not require formal testing. This will run in parallel to the current system of product testing and certification. We will inform you on the new changes when they happen.


Pakistan

The state communications regulator in Pakistan, the Pakistan Telecommunications Authority has issued an updated list on equipment now exempt from their type approval regulations.

The list of equipment now exempt from type approval is as follows:
Networking Equipment (Switches, Firewalls, Servers, Storage Devices)
Laptops /Desktops/Personal Computer (PC)
Tablet PC with Wifi only Functionality (Non-Sim based devices)
GPS only devices
Smart Watches with Bluetooth / Wi-fi functionality only (Without SIM or Tracking Features)
RFID/Bluetooth/NFC devices
If your equipment classification meets the exemption list you are no longer required to apply for type approval.


Malaysia – SRD equipment to be removed out of the 869-870MHz band

The communications regulator in Malaysia Sirim has informed ICM that from 31st of December 2017 Sirim will no longer issue approvals for all SRD equipment using the 869 MHz to 870 MHz band. Instead manufactures should be planning to use another band for their SRD's such as 433-435MHz and 919-923MHz.


Belarus – Changes to product certification requirements

The state regulator in Belarus the Ministry of Communications has published the official document #849 to regulate products and their applicable requirements.

Radio/Telecom and Energy Efficiency, CU EAC Conformity approval is no longer sufficient in order to import/sell your products into Belarus. Instead Conformity approval (Belarus Certificate/Declaration) in accordance with the Belarus Energy Efficiency/Telecom requirements which is issued by an Accredited Belarus Certification Body is now mandatory.

Please note the following

New radio/telecom requirements in Belarus are mandatory from February 1, 2017

Approval – certification or declaration will now be dependent upon your product type. An applicant can choose to apply for certification instead of CU declaration. In case of Certification – the foreign manufacturer can be the applicant, no local/authorized representative needed

Energy Efficiency

Energy Efficiency requirements are mandatory in Belarus depending on your product type starting February 1, 2017.
Safety requirement to cables

Safety requirements to cables designed for more than 1000 V of AC current and 100 V of direct current in Belarus become mandatory from February 1, 2017
Nov 2016
Taiwan – Low Power Radio Standard Amendment
As of the 1st Nov 2016 the Taiwan Low Power Radio standard 'LP0002(ver 20160823)' has been amended and is now enforced, one key change is the opening up of more WLAN frequencies for 802.11agn/ac devices, The amended standard is now more in line with FCC Part15C/15E.

This change sees a new band for UNII devices as highlighted  below.

Singapore – Product Label Changes
As touched upon last month we reported on a potential change to the product approval label for Singapore. The label change has now been announced.
Equipment that has been registered or renewed after 1 October 2016 with IMDA, shall be affixed with the IMDA compliance label by no later than 30 September 2017. This is to allow time for dealers to prepare and affix the new IMDA label. The new label is shown as below;

RED - EU WLAN Standard EN 301 893 – Still under revision
ETSI has informed all interested parties that the harmonized standard EN 301 893 used for 5GHz Wireless Access Systems is still under revision in order to include new technologies and a new test method.

The delays have occurred due to the intention of introducing new technologies like LTE-LAA into the 5 GHz unlicensed spectrum. The biggest challenge being to work out a new sharing mechanism (called the 'Adaptivity' requirement) that would ensure fair coexistence between the existing technologies such as Wi-Fi (IEEE 802.11 based) and newly developed technologies such as LTE-LAA. This is completed; however, the result is a rather complex sharing mechanism.

The ETSI body Broadband Radio Access Networks (BRAN) is now finalizing the development of a test method for this sharing mechanism for inclusion into the standard. As a result of this additional work to be done first

This standard was supposed to be published by June 2017, but ETSI are unable to have it ready by that date. The advice until the standard becomes harmonized is to seek a type examination certificate.

Gulf States Low Voltage Electrical Equipment Scheme – Products considered in the scope of the scheme.
Since July 1st, 2016 the Gulf Technical Regulation for Low Voltage Electrical Equipment and Appliances BD-142004-01 came into force, It is now mandatory for all Low Voltage Electrical Equipment and Appliances manufactured in or imported to the Gulf states (United Arab Emirates, Bahrain, Saudi Arabia, Oman, Qatar, Kuwait and Yemen) to fulfill the applicable requirements listed under the technical regulation, if your equipment inside the scope of the scheme.

Products whose HS code matches the list below are subject to the scheme.





Compliance to the scheme is achieved by submitting compliant ETSI reports and obtaining a GCC Type Examination Certification by a Notified Body. Manufacturers are obligated to undergo a defined conformity assessment procedure and affix the G-Mark on their products. The G-Mark is accepted in a number of gulf countries and avoids the need to comply with individual country requirements. ICM is seeing a number of manufacturers now taking advantage of the new scheme.
Oct 2016

Kuwait – CITRA New Radio Regulatory Body
In 2016 the Ministry of Communications appointed a new regulatory body 'CITRA' to oversee the regulation and certification of IT-Communications Equipment. ICM has completed a series of product certifications for a number of devices, from WiFi routers, access points, key fobs, RFID, LTE and DECT Base Stations and handsets. CITRA accepts international accredited test reports so no further testing is needed however there is a change to the former procedure in that only locally registered companies can apply for approval. ICM has a local partner so we can offer a complete product certification solution. Timescales currently vary between 6-10 weeks.

Singapore– Regulator Restructures from the IDA to IDMA
Following on from recent compliance updates the regulator in Singapore 'IDA' has just announced the change in organization from the IDA to the Info-communications Media Development Authority 'IDMA'.
The IDMA has a newly published web site idma.gov.sg, the guidelines for the registration of telecommunications and radio equipment has also changed slightly. The procedure remains largely the same however we have been informed that the product labelling requirements will change to reflect the new body.
New Zealand – 77-81GHz to be allowed for ground-based radiolocation use including automotive radar
The New Zealand regulator 'RSM' has updated their Radio communications Regulations notice (General User Radio Licence for Short Range Devices) to include a new provision covering the frequency range 77-81 GHz. This provision is for the purpose of ground-based radiolocation use, including automotive short range radar technology.

The provision is in line with the outcomes of the World Radiocommunication Conference that concluded in November 2015.  
South Korea - Further 5GHz Frequencies now available for use
The South Korean spectrum management agency has made available more 5GHz WiFi/WLAN frequencies for use. Previously the following frequencies were only available;
5470MHz – 5650MHz and 5725MHz to 5825MHz
Now the whole of these bands are now available for use, the new bands are as follows:
5470MHz – 5725MHz and 5725MHz to 5850MHz
Compliance is achieved by testing to the Korean national radio standards.

South Africa –Equipment Exempt from Approval – Public Consultation Document 
ICASA has issued a public consultation document to look into the exemption on the approval of communications equipment under certain conditions, currently you have to apply to ICASA for an exemption to the rules (demo equipment / marketing Or test purposes etc..)

Under the new proposal equipment can be exempt from type approval under certain conditions, such as

a) Scientific studies and researches;

b) Sample testing and demonstrations;

c) Operations of specialised agencies;

d) Maritime or aeronautical operations;

e) Commercial exhibition, but not for marketing;

f) Equipment produced, imported for the purpose of export only; and

g) Spare parts, components used for repairs

ICM will monitor the proposal and will provide an update once the new rules become published.
Nepal – Product Certification Consultation Document  
The Nepal Telecommunications Authority 'NTA' has issued a consultation document in regards to new product certification procedure. The new procedure allows for the use and acceptance of the international test reports, no further testing. Currently only local companies based in Nepal can apply for the approval, under the new proposals the applicant can be submitted from companies outside of Nepal. There is also a proposal for a new labelling requirement. Once the new regulations are passed into law we will report back with an update.
Sept 2016
South Africa – ICASA Strike is over
On the 15th August ICASA issued a media release to confirm it has reached a settlement with its staff members and as a result the strike is officially over. ICASA is now back issuing product certificates once more. Timescales are a little longer than normal due to the backlog of applications still to be processed.

Mexico– New Import Notice Required for Specific RF Devices
Mexican customs officials will no longer accept certificates of conformity to the former RF standard NOM-121-SCT1-2009. Unless you / your importer provides a copy of the public notice issued on the 29th August by the Mexican Secretaria de Economia. A public notice was issued by the Mexican SE, the notice instructs Mexican customs officials to accept certificates of conformity to the former RF standard NOM-121-SCT1-2009, not reject them.

The standard NOM-121-SCT1-2009 was replaced in 2015 by the current standard, NOM-EM-016-SCFI-2015.

So, any Manufacturers / importer with RF devices operating in the 2400-2483.5MHz – 5725-5850MHz and 902-928MHz frequency bands and have been assessed against the former RF standard NOM-121-SCT1-2009 can continue to import these RF devices into Mexico only if you provide a copy of the SE notice along with your homologation certificate.

Saudi Arabia –  Additional Requirements for Product Certification
Recently we wrote about changes to the procedure for product certification in Saudi Arabia, however since this last notice the Saudi regulator has notified ICM of further changes as described below.

All declarations now have to be stamped as well as signed. All test reports must be issued by test laboratories accredited by a body listed within ILAC 'International Laboratory Accreditation Cooperation'.

CITC is requesting all documents to be reduced in size below their 4MB upload limit and submitted.

Argentina – New Low Power Device Standard
On July 16th the Argentina regulator, ENACOM (Ente Nacional de Comunicaciones), published a new standard for low power devices 'Q2-60.14V16.1' (superseding the standard Q2-60.14V12.1).

ENACOM has a 180 day interim period whereby test reports to the standard Q2-60.14V12.1 will continue to be accepted. Once this period expires, reports to the new standard Q2-60.14V16.1 must be submitted for both new and renewal Type Approval applications.

Changes in the new technical standard are as follows:
Modular Approval is now acceptable, so for a manufacturer of several hosts which use the same RF module, only the RF module requires approval, not each host.

Number of samples required for local testing has been reduced.



Devices operating on a single channel in the new standard Q2-60.14V16.1 require one sample.


Devices operating on multiple channels on the new standard Q2-60.14V16.1 require one sample, as long as the channel can be adjusted in the test SW of the single sample. If not, it is required to provide one sample each for low, middle, and top channels.
Algeria – Suspension of Type Approvals
Recently, Algeria's regulator, Autorité de Régulation de la Poste et des Télécommunications (ARPT), indicated that Type Approval services are on hold pending the election of a new Director. During this time, Type Approval certificates will not be issued. The processing of applications and issuing of certificates will resume once the new Director is elected.
June 2016



South Africa – ICASA / SABS MOU
IT – Electronics Communication Product compliance
The Acting Chairperson of the Independent Communications Authority of South Africa (ICASA), and the Chief Executive of the South African Bureau of Standards (SABS), have signed a Memorandum of Understanding (MoU) on 30 March 2016 that will see the two entities collaborate on ensuring that electronic equipment entering the South African market meets the required quality-performance standards.
Recently there has been an influx of low quality products into South Africa, the risks they pose to consumers has seen SABS and ICASA to review the process of issuing Electromagnetic Interference/ Compatibility (EMI/EMC) Certificates of Compliance (CoCs). a result of this MoU electronic equipment (non – telecommunication) that fall under the mandate of ICASA will be subjected to robust conformity assessment procedures to ensure that such products meet the stipulated quality requirements.
Just in the past couple of weeks we have noticed that ICASA are requesting to see every report mentioned on a DoC including SAR, and are checking every aspect of a product to ensure they have all test reports and it is compliant.
Bhutan – New Labelling Requirement
Bhutan's regulatory authority, BICMA, recently implemented type approval procedures for the  certification of information and communications technology (ICT) equipment. International applicants who intend to export their ICT equipment to Bhutan must obtain a type approval certificate for their equipment. Type approved equipment should be affixed with a label as shown below: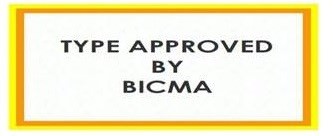 Saudi -   Type Approval Procedural Changes
The Saudi regulator the Communications and Information Technology Commission (CITC) has stopped accepting manufacturers declarations of conformity. The CITC are now asking for Certificates / Declarations of conformity issued by the test laboratories accredited under the international laboratory accreditation cooperation scheme, 'ILAC'.
The certificate of conformity should be on company letter headed paper, signed and stamped by the issuing laboratory.
Also a new declaration against the Saudi regulations is now required.
Niger –   Type Approvals Resumed
During April 2016, after a two-year suspension, the Regulatory Authority for Telecommunications and Post of Niger (ARPT) will resume the issuance of Type Approvals. Additionally, ARPT has implemented the following changes to its approval process:
Four approval request forms must completed by the manufacturer
Two samples must be submitted. The samples will be returned to the applicant at their own expense within a 6-month period following the date of the approval or the rejection.
The application license fee must be paid before the submission of the projects.
2 months are needed for application processing.
Pakistan –  WLAN 2.4GHz / 5GHz Frequency amendments
During April 2016, Pakistan's Telecommunication Authority (PTA) published a new notification S.R.O 287(I) 2016 for WiFi device usage. Changes to the 2.4 GHz and 5.8 GHz ISM Bands are as follows:
· The 2.4 GHz Band is now fully open; it was previously restricted to 2.4735-2.4835 GHz only. Maximum Permitted Output Power is 30 dBm EIRP.
· The output power for the 5.725‑5.875 GHz band has been increased from 20 dBm EIRP to 30 dBm EIRP.
Additionally, PTA recently confirmed that all the standalone RFID and NFC have been exempted from type approval.
April 2016

South Africa – ICASA changes to the application process
ICASA has notified all lCASA registered businesses in South Africa of some changes in the process of product certification. ICM's own channel partner in South Africa has been notified that all applications must be addressed to a new centralized processing team in ICASA. This is in response to the recently slow service levels experienced in ICASA.
The centralized processing team is being assembled to deal with all approval application enquiries. The aim is to help with the back log of applications and to speed up the processing time for approval. ICM has longstanding established working relationship with ICASA and provides quick turnaround times on all product certification applications.
Indonesia – Test reports now required

In March 6, 2016, Indonesia's Direktorat Jenderal Sumber Daya dan Perangkat Pos dan Informatika (SDPPI) released a new Resolution, Ref. No. 292/BBPPT.31/SP.04. 06/3/2016. Under the new resolution all applications for product certification must be accompanied by EU/FCC test reports.
This new regulation is effective immediately.
Supplying EU/FCC test reports does not negate the need for local testing, this is still mandatory. Test reports will act only as support for local laboratories in performing the tests.
Venezuela - Product certification - lead times extended
Recently, the Venezuela Government has implemented an emergency plan to save electricity in the country due to the economic crisis and in response to the power shortages. The imposed measures apply right across the public sector. The emergency laws require the Telecom regulator to only work six hours a day Monday to Thursday, and will be temporarily closed on Fridays. Thus impacting on the lead time for the publication of the monthly list of homologated equipment until further notice. ICM will keep you informed of further changes.
Mexico – Temporary radio standard validity period extended
According to the Mexican communications regulator 'IFETEL' the validity of the "NOM-EM-016-SCFI-2015, for Radio communications systems using the spread spectrum technique – radio communications equipment for frequency hopping and digital modulation to operate in the 902-928 MHz, 2400-2483.5 MHz and 5725-5850 MHz bands, specifications and test methods." will be extended another 6 months until October 20th, 20
Papa New Guinea – Product certification list - extended scope
The body responsible for the certification of Communications equipment in Papa New Guinea ' NICTA' has released a public consultation document to further clarify the standards and equipment types subject to product certification.
As well as clarifying the standards for wireless technologies NICTA has also extended the product scope to cover ICT equipment for the first time. The document publishes the IT standards which will be covered in the updated product certification requirements.

Once the public consultation period is finished the revised product certification requirements will be published to include all types of ICT equipment.
The public consultation process was issued in January 2016, as of yet a closure date has not yet been confirmed.  ICM will keep you informed of any changes.

New Zealand – New Standards for Headsets

Telepermit has published a new specification 'PTC 208' specifically for headset equipment. Previously headsets were tested to the NZ standards PTC 200 or PTC 220, and sometimes the Australian standard AS/CA S004. These requirements have now been dropped in the PTC200 / PTC220 standards, all new headsets must be tested to PTC 208 as from (1 April 2016).
PTC 200 is still valid for products connected to the analogue PSTN and PTC 220 for private voice network equipment.
Indonesia – Product Scope Expanded
Since the 1st of February 2016 the Indonesian Government Regulation No. 80-201 came into force. Under the new regulation the scope of the regulations has been widened and now incorporates the products listed below:
Video Conference products
IP-PABX
Routers
Switches
Media Gateways
Digital Television DVBT2
Set top box DVBT2
The regulator is also requesting copies of FCC  EU reports for all product types however testing is still mandatory.
Kuwait– New Type Approval Regulator
On February 16, 2016, Kuwait's Communication and Information Technology Regulatory Authority (CITRA) became the new Kuwaiti Regulator responsible for issuing wireless Type Approvals. CITRA are working on implementing a new type approval system, so in the interim period approvals are still issued by Kuwait's former regulator, MoC, they will continue to process all applications for Type Approval.
Morocco – New Safety and EMC requirements
Morocco's regulatory body 'MCINET' announced new EMC and LVD requirements which will come into effect on April 12, 2016. Manufacturers must apply for a Declaration of Conformity certificate for all affected products before importing into Morocco. We are currently awaiting an update from the MCINET to confirm which products fall within the scope of the new requirements.
Azerbaijan – Appoints New Minister
The telecoms regulator in Azerbaijan 'Minicom' had temporarily suspended certification activities. However a new minister has been appointed in March and the certification activities have been resumed. However we have been informed that the procedure for equipment certification is going to change soon but no details have yet emerged. ICM will monitor the situation and will advise on changes.
UAE – Changes to payment arrangements
The TRA in the UAE have announced a new payment system for product approvals. Payment can now be submitted on line at the same time as applying for certification, this is as opposed to bank transfers or visiting the TRA direct. The new change has resulted in the shortening of the process for product approvals down to 1-2 weeks.
Philippines – New WEEE requirements
The Environmental Management Bureau (EMB), under the authority of the Philippines Department of Environment and Natural Resources (DENR), published draft "Guidelines on the Environmentally Sound Management (ESM) of Waste Electrical and Electronic Equipment (WEEE)", which will apply to products classified under ICS codes 13.030, 31.020, and 97.030.

The EMB has developed the technical guidelines on the environmental management of WEEE providing the compliance framework for all stakeholders involved in the life cycle of products.

With the draft technical guidelines the final date for any comments is March 31, 2016. Once the new WEEE regulations are published we will update this article.
January 2016
Australian Compliance Mark – Transition Period Ending
Australian ACMA Labelling arrangements
The Australian compliance mark comes into force from March 2016. The changes are as follows:
The three existing compliance marks (C-Tick, A-Tick and RCM) are being consolidated into a single compliance mark—the RCM.
The new RCM indicates a device's compliance with applicable ACMA technical standards—that is, for telecommunications, radio communications, EMC and EME.
A supplier will not be required to include supplier identification on devices labelled with the RCM.
The arrangements for use of electronic labelling continue to apply to the RCM.
A national database has been designated for all supplier registration.
The national database for supplier registration is jointly used by the ACMA, the Electrical Regulatory Authorities Council (ERAC) and Radio Spectrum Management (New Zealand).
A supplier who intends to supply devices that are required to be labelled under an ACMA Labelling Notice must register on the database as a 'responsible supplier'.
If registering only for ACMA purposes, a supplier must ensure that only the ACMA acknowledgement is checked.
A supplier who is registering for ACMA-only purposes is not able to enter any equipment details. There is no fee associated with ACMA-only registration.
New RCM label.


     
Ukraine
Implements new EMC regulations
On 16 December 2015 the Ukrainian Ministry approved Resolution No. 1077 on the establishment of technical regulations for electromagnetic compatibility. The Resolution is closely aligned on the EU Directive 2014/30/EU, The harmonisation of the laws of the Member States relating to electromagnetic compatibility.
Argentina
New Regulatory Body 'ENACOM'
Back in Dec 15 the Ministry of Comms suspended the activities of the former regulator AFTIC, Now the Argentina regulator AFTIC has officially merged with AFSCA (entity in charge of the media), and the new entity is called ENACOM (Ente Nacional de Comunicaciones). It is expected that there will be some small  delays to the procedure for product certification.
Tanzania
Amendment to Radio law for low powered radio devices
Previously the Tanzania regulator 'TCRA' allowed all radio devices operating with an output power of below 100mW to be exempt from product certification. However recently the TCRA issued a new decree to change this ruling, now all radio devices regardless of output power has to obtain formal product certification.
Singapore
New regulatory body - IMDA
On January 18th, the Ministry of Communications and Information (MCI) of Singapore announced on it's website that, they will create the new regulatory body the IMDA.
The MCI announced that they want to bring together the IDA (Infocomm Development Authority of Singapore) and MDA (Media Development Authority) as a converged regulator.
The minister for Communications and Information, announced that the agencies will be restructured to create two new bodies, which will come into administrative effect on 1 April.
It is not clear yet if there are any changes to existing regulatory certification procedures. ICM will monitor the situation and will provide further updates.
December 2015
Korea
New Korean EMC standards
New EMC standards comes into force from Jan 2016 for IT, Communications equipment.
The new standards are KN32 / KN35.
Essentially the new standard combines the product categories of the current KN22/24 and KN13/20 EMC standards,

KN 22/24 _ ITE Equipment  (Computer, Terminal, Printer, Monitor, and etc.)
KN 13/20 _ AV&Broadcast receiver   (TV, Radio, Audio, and etc.)
Applied product :
KN22/24 Category products + KN 13/20 Category products + Multi-media equipment for specialized purpose. (Included the stage lighting controller equipment)
Differences in the new standards are;
KN22/24 Category product in KN32/35 standard
EMI :    Same as before (KN22)
EMS :   CS Test level change 0.15~10MHz 3V, 10~30MHz 3~1V, 30~80MHz 1V
............RS Test level added
............Addition of Spot frequency:
............1800MHz, 2600MHz, 3500MHz, 5000MHz 3V/m

...* Addition of Monitoring method for sound out function_ Sound pressure measurement : RS, CS test will be included.
KN13/20 category product in KN32/35 standard
EMI   : Included signal line conducted test for tuner port
EMS  :
...........Deleted immunity test for Tuner port (S1, S2a, S2b, S3, and etc.)
...........Included RS test
...........80~1000MHz 3V/m , + Spot frequency added
...........(80, 120, 160, 230, 434, 460, 600, 863, 900, 1800, 2600, 3500, 5000MHz)  Included Surge test
...........LINE TO LINE : ± 1 kV, LINE TO GROUND : ± 2 kV
...........Tuner port ± 0.5 kV
...........Included Voltage Interruption test and Voltage dip test

...........Voltage dip                   70% : 30cycle,
...........Voltage Interruption      0%   : 300cycle,  0%: 0.5cycle,
...........Included CS test 0.15~10MHz  3V, 10~30MHz  3~1V, 30~80MHz  1V
                       Categorized Analog line(AV, Tuner port, and etc.) as signal line
Russia
Forthcoming changes to the Telecom DoC procedure for Russia:
The Russian Ministry of Telecommunications has issued a new memorandum, 'Memorandum Telecom #88', which comes into force on the 16th of December 2015.
The memorandum states that together with the telecom DoC an applicant MUST submit to the Ministry a package of documents which consists of:
Copy of Local Test Lab report (new form);
Copy of EU/FCC test reports
Copy of Agreement for holding DoC;
Copy of Charter documents in notarized form
There is still some uncertainty over the new requirements such as the copy of the local test lab report?
There are a number of open questions which we are trying to seek clarification on, once we received the feedback from the Ministry we will update this article.
India
Updates product certification procedure and publishes more licence free radio bands
There have been some recent changes to the WPC product certification requirements for radio communications equipment. The changes are as follows:
Each radio test report must now be signed/stamped on each page by your local Indian representative.
There are new application documents which need to be signed and stamped by the manufacturer and the local representative.
The WPC are enforcing these new requirements.
Also, for equipment with multiple radio interfaces, a certificate is issued for each radio interface.
The WPC has recently published more licence free frequency bands, the new bands are listed below.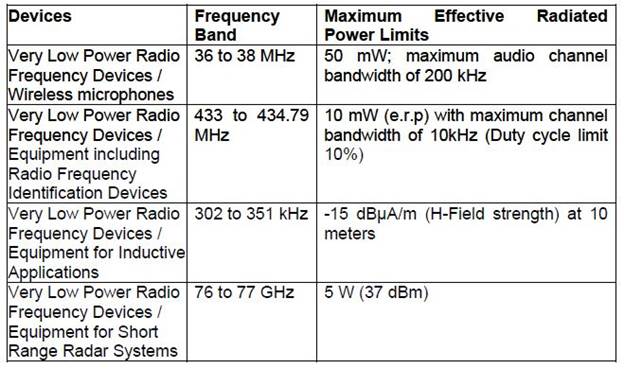 Mexico
Temporary standard for Bluetooth and WiFi equipment
Mexico's standard for WiFi and Bluetooth (NOM-121), expired October 19, 2015. Mexico's Secretary of Economy has since issued a temporary standard, NOM-EM-016-SCFI-2015, to replace NOM-121 for six months. This temporary standard refers to the parameters set out in IFT-008 and after six months, there will be a new permanent NOM standard adopted that will also reflect IFT-008. Testing parameters will not change but all certifications completed under NOM-EM-016-SCFI-2015 will need to be updated to the new NOM standard, via a paperwork exercise.
Argentina
Forthcoming changes to power adapters.
From April 19, 2016 the government resolution 508/15 will require all power adapters to be certified under S-Mark scheme. Previous S-Type certifications will no longer be accepted for power adapters. Any manufacturer who currently has S-Type approval on their adapters must change their certificate to the S-Mark. 
The new scheme will require the following
Converting the S-Type certificate to the S-Mark approval
S-Mark usage fees will apply
Factory inspection reports (CIG-023) will be required annually
October 2015
Bhutan – Future Product Certification Requirements
The regulator for the certification of Communications and I.T equipment 'BICMA' has informed I.C.M that the new procedures for the certification of communications and I.T equipment are under review ready for implementation.
We are informed that it is likely to become law and implemented sometime in November.
The new procedures will allow manufacturers to apply for certification from any location around the world. Previously only local companies in Bhutan could apply for certification. The new laws will allow for the use of existing US / EU test reports. ICM will report back in November with an update.
Dominican Republic - New Product Certification Requirements
The Dominican Republic communications Regulator, Instituto Dominicano de las Telecomunicaciones (INDOTEL), is now requiring certification for all radio devices. In the past, FCC approved devices were acceptable and they did not require further certification. However, INDOTEL implemented new procedures which require radio devices to be certified before importing equipment into the Dominican. They will continue to accept FCC reports as the basis of compliance to their new requirements.
South Africa – New Plug Standard

Adoption of the Plug Standard SANS 164–2
The current triangular electrical plug and socket used in South Africa is about to be replaced. SABS recommended to implement the plug standard SANS 164-2. This plug standard is the preferred configuration for new installations.
Malaysia – New Radio Standard

The Malaysian standards body 'MCMC' released a new radio standard SRSP. This new standard specify the "requirements for mobile cellular systems and International Mobile Telecommunications (IMT) systems operating in the frequency bands 824 MHz to 834 MHz paired with 869 MHz to 915 MHz.
Brazil – Public Consultation on the Brazil Radio Standard

ANATEL Released The Public Consultation No. 23, Proposing A New Regulation to Revoke Resolution 506 and Some Other Resolutions Modifications This public consultation relates to replacement of the regulation for Restricted Radiation Equipment, Resolution No. 506.h
Tonga – New Product Certification Requirements

The responsible regulatory body for I.T and Communications equipment Authority Ministry of Information & Communications (MIC) has adopted and implemented new rules for equipment certification. From October all radio and communications equipment must obtain product certification with the MIC prior to being imported and marketed for use in Tonga. They will continue to accept FCC and EU reports as the basis of compliance to their new requirements.
United Arab Emirates – Scheme to restrict the use of hazardous materials in electronic and electrical devices

The Emirates Authority for Standardization and Metrology (ESMA) recently published a new control scheme to restrict the use of hazardous materials in electronic and electrical devices. The Emirates Authority for Standardization and Metrology (ESMA) created a scheme that regulates the use of any hazardous materials in electronic and electrical devices. Manufacturers seeking to import equipment containing harzardous substances into the UAE are requested to follow the new guidelines.

China - Lithium-ion Battery Requirements
Following amendments to the Electrical Appliance safety Control Regulation, the requirement to test and approve all Lithium-ion type batteries, regardless of Energy Density value (Wh/L) has been announced and is due to take effect from 1st April 2016.
Prior to this regulation taking effect, batteries with an Energy Density greater than 400Wh/L only would require testing and approval.
Philippines – New Radio Medical Standard

Medical Data Systems (MEDS) are now included in the National Telecommunications Commission  (NTC) SRD Regulations for the 401 - 402 MHz, 405 – 406 MHz  frequency bands. This amendment came into effect on 27th August 2015
Indonesia – Revised 5GHz Band Requirements

SDPPI have recently implemented a new technical requirement which requires the max. power (at antenna connector) for both 2.4G and 5GHz to be limited to 20dBm (100mW). The maximum EIRP value permitted for each band is as follows:

2.4GHz: 36dBm (4W) for outdoor use,
27dBm (500mW) for indoor use
5GHz: 36dBm (4W)
Previously the limit was 33dBm for WLAN 5GHz devices and 36dBm ERIP for Fixed Wireless / Broadband Access
The Telecommunications Regulatory Authority (TRA) in the UAE have issued a public notice on the new mandatory cellular handset requirement in recently published Technical Specification TS040.
These new requirements which come into force in Jan 2016 establish a "Public Warning System" which will use several channels to broadcast public warnings in emergency cases or disaster situations. The Technical requirements of TS040 are below:
The Handset should be configured by default to receive all Warning Notifications.
Messages should support both English and Arabic languages.
Message should be limited to 1 page maximum.
An emergency alert message should be immediately recognizable. (Emergency messages shall be specifically recognizable as being an emergency message that cannot be mistaken for an ordinary message)
The emergency warning message should stay on the display regardless of the user setting, until the message indication is cancelled by the user. It should be possible for the user to review the message at a later time.
Handset should only be required to receive and present Warning Notifications in languages as presented by the Warning Notification Provider.
It should be possible for the Warning Notification to be displayed on the handset upon reception and without any user interaction.
The alerting indication for a specific Warning Notification should continue until suppressed by users' manual operation (e.g. by pushing keys). The frequency and duration of the continued alerting indication is mobile device implementation specific. This should not suppress the alerting indication for subsequent Warning Notifications.
The handset should not support any capabilities to forward received Warning Notifications, to reply to received Warning Notifications, or to copy and paste the content of Warning Notifications.
The handset should have the ability to present previously displayed Warning Notifications if requested by the user.
The handset should be able to support concurrent reception of multiple Warning Notification.
September 2015
China - Electronic Labeling Now Permitted
On June 26, 2105, China's Ministry of Industry and Information Technology announced the electronic labelling of the SRRC CMIIT ID is now permitted on RF devices, provided that it meets the following requirements:
The display cannot be removed and/or replaced.
Instructions on how to locate the CMIIT ID are provided to the user.
The user can easily locate the CMIIT ID, without the need for a special operation such as entering a password.
The user can locate the CMIIT ID without the need for special accessories or additional conditions such as inserting a SIM card.
The device meets all other related laws and regulations of China.
The CMIIT ID should also be affixed to the outer packaging and user manual of the device, and manufacturers should ensure that the CMIIT ID cannot be changed or deleted by any third party.
FCC – Changes to the Authorisation Procedure for Radiofrequency Equipment
The FCC has issued a series of recommendations in regards to the authorization procedure for radio communications equipment. The proposed changes are summarized below.
The combination of the Declaration of Conformity and Verification procedures into a single self approval procedure.
Clarify the rules for the certification of modular transmitters, and for radio equipment in which the RF parameters are controlled by software.
Clarify the rules on when 1 product uses multiple certified modular transmitters
Update on the rules for e-labelling



You can find the actual proposal document in the following link :http://transition.fcc.gov/Daily_Releases/Daily_Business/2015/db0722/FCC-15-92A1.pdf

Mexico – Changes to the regulatory 2.4GHz  - 5GHz and 902-928MHz standard

The Mexican standard NOM-121-SCT1-2009, the regulatory standard applicable to devices operating at 2400-2483.5MHz, 5725-5850MHz and 902-928MHz, expires on October 19th, 2015.

There is some confusion regarding it's replacement, at the moment the regulatory body 'IFETEL' have not confirmed the replacement standard, the new NOM regulation may not be issued for several months.

Applications for new Type Approvals (products operating in the 2400-2483.5MHz, 5725-5850MHz or 902-928MHz band) cannot be filed until the new NOM regulation is issued.

Manufacturers should accelerate their Type Approvals so that submission to Mexico's certification body, IFTEL (Instituto Federal de Telecomunicaciones) before the existing NOM-121-SCT1-2009 regulation expires. There will be no impact to any devices approved in accordance with NOM-121-SCT1-2009 before October 19th, 2015 - these Type Approvals will remain valid and import can continue.

Israel – Public Holidays – Impact on applications for certification

The holiday season is in full swing this month in Israel, as such applications for certification with the Ministry of Communications will take longer than normal to be issued, the public holidays are listed below.

13/09/2015        14/09/2015        15/09/2015        22/09/2015
23/09/2015        27/09/2015        28/09/2015        29/09/2015
30/09/2015        01/10/2015        02/10/2015        03/10/2015
04/10/2015        05/10/2015

Vietnam Announces new EMC standard for TTE and Radio Equipment

In the past few weeks the regulatory communications and IT body, the Ministry of Communications, MIT issued a new EMC standard specifically for fixed wired and wireless communication equipment.

The standard titled 'QCVN 18::2014/PT TTT' – Technical Regulation on general Electro Magnetic Compatibility for Radio Communication Equipment, applies to both fixed wired Telecommunications Equipment and Radio Communications equipment and comes into immediate effect.

June 2015

Europe – New Radio Equipment Directive

The new Radio Equipment Directive (RED) was adopted by the Council of the European Union in April 2014 and replaces the R&TTE Directive. Member States have a two year transition period to transpose the rules into their national laws. Manufacturers have been given an additional year to comply as equipment that is compliant with the current R&TTE Directive may continue to be placed on the market 12 months beyond the transition period.

Key changes in the new Directive:

• A clearer requirement that radio equipment shall be constructed so that it both effectively uses and supports the efficient use of the radio spectrum to avoid harmful interference.

• Broadcast receivers now fall within the scope of RED, previously not covered in the R&TTE.

• RED requires common / universal chargers.

• Clearer obligations for manufacturers (Article 10 of the Directive), authorised representatives (Article 11), importers (Article 12) and distributors (Article 13).

• Manufacturers will be required to affix the CE marking in accordance with Articles 19 (General Principles of the CE Marking) and 20 (Rules & Conditions for Affixing the CE Marking) to each part of radio equipment that satisfies the applicable requirements of this Directive.

• Telecommunications equipment is no longer covered by it's scope– these products will now be covered by the EMC Directive.

• What is currently the "Technical Construction File (TCF) Opinion" (Annex IV of the R&TTE Directive) becomes "Annex III - Type Examination Procedure" in the RED. While the process of submitting a TCF to a Notified Body does not really change, the Notified Body number can only be used under the 'Full Quality Assurance' procedure set out in the RED's Annex IV, and not under the Type Examination procedure.

• Article 4 of the RED defines the compliance of the combination of radio equipment and software. This article requires that software can only be used with radio equipment after the compliance of that particular combination of software and radio equipment has been demonstrated.

• Safety assessment will now need to take account of reasonably foreseeable usage conditions, not just the intended use (Article 17) - in other words anticipate how a product might be misused.

• Deletion of some unnecessary administrative obligations, such as the prior notification of radio equipment using non-harmonised frequency bands.



Ghana – New local representative requirements

During June there has been an amendment to the procedures for the certification of IT-electronics and communications equipment in Ghana. Previously the certificate holder could be based anywhere in the world. Now this ruling has been changed and now a local company is now required for all type approval applications if the manufacturer does not have a branch in Ghana".

Regarding the publication of the type approved devices on NCA website: "The Authority will maintain on its website a list of approved local companies (hereinafter referred to as "Type Approval Register") to be accessed by the general public" Regarding market surveillance "The Authority shall perform market surveillance activities from time to time to ensure that only certified equipment is sold in Ghana"

Russia – Newly Adopted 802.11 ac and 802.11ad standards

Recently, the Russian Ministry of Telecom and Mass Communications and The Ministry of Justice released Radio Access Regulations for 802.11ac and 802.11ad standards.  These standards are now included in Order No. 124, and the regulations came into effect on June 14, 2015. Russia Ministry Declarations and Certificates issued before June 14, 2015 for devices containing these technologies will not be affected.  Manufacturers have the option of applying to update existing Declarations and Certificates to include 802.11ac and 802.11ad if they wish to do so.

Marshall Islands – New certification laws coming on the horizon

At present there are no formal laws concerning the certification of IT-electronics and communications equipment in the Marshall Islands. Each device is assessed on it's own merits but given the close ties to the US, FCC reports will be accepted as a means of compliance. However, we are informed that during the end 2015 the regulator in the Marshall Islands will be implementing new laws concerning the certification of IT-electronics and communications equipment in the Marshall Islands. I.C.M will keep you informed on the new regulations before they are adopted.

Egypt – Changes to the fee structure for the certification of IT-Electronics and Communincation equipment.

The Egyptian regulator 'NTRA' has changed the fees for the certification of IT, Electronics and Communication in Egypt. The new price bandings were applied from the 1st of May. Please contact us if you wish to receive a copy of the new pricing structure.

Canada – Releases RSS-247 standard replacing the RSS210 Annexes 8 and 9 standards

The new standard RSS-247 has been published on May 28, 2015 and comes into immediate effect. RSS-247 replaces annexes 8 and 9 of RSS-210 for devices operating on 2.4GHz and 5GHz band such as FHSS, DTS and U-NII devices.

Regarding the transition period for this new standard implement please refer to the following:

If a CB has issued a certificate to RSS-210 before the date of publication of RSS-247, nothing needs to be changed, it can be submitted as is and the CB would select RSS-210 in the application.

If a test report was issued to RSS-210 and the CB is issuing a certificate after the date of publication of RSS-247, the certificate shall indicate RSS-247 and the CB shall choose RSS-247 in the application. IC will accept test reports performed to RSS-210 for a period of three months after the publication of RSS-247. This means that after August 28, 2015, IC will only be accepting test reports performed to RSS-247. IC do accept test reports up to one year old and this means that after August 28, they can still accept a test report performed to RSS-210 but it will only be accepted if it is supplemented with a partial test report to cover any missing requirement in RSS-247.

---